Rereading Freud: Psychoanalysis Through Philosophy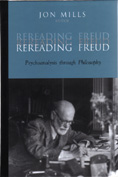 Book Details
Publisher : State University of New York Press
Published : 2004
Cover : Hardback
Category :
Psychoanalysis
Catalogue No : 92913
ISBN 13 : 9780791460474
ISBN 10 : 0791460479
Reviews and Endorsements
Rereading Freud assembles eminent philosophical scholars and clinical practitioners from continental, pragmatic, feminist, and psychoanalytic paradigms to examine Freud's metapsychology. Fundamentally distorted and misinterpreted by generations of English speaking commentators, Freud's theories are frequently misunderstood within psychoanalysis today. This book celebrates and philosophically critiques Freud's most important contribution to understanding humanity: that psychic reality is governed by the unconscious mind. The contributors focus on several of Freud's most influential theories, including the nature and structure of dreams; infantile sexuality; drive and defense; ego development; symptom formation; feminine psychology; the therapeutic process; death; and the question of race. In so doing, they shed light on the ontological commitments Freud introduces in his metapsychology and the implications generated for engaging theoretical, clinical, and applied modes of philosophical inquiry.

'This timely book makes a profoundly significant contribution to research concerning the philosophical implications of Freud's thought. The rich array of perspectives by leading scholars will reinvigorate intellectual discourse in Freud studies for years to come. This is an extraordinary undertaking that is long overdue.'
- David Pettigrew, cotranslator of The Book of Love and Pain: Thinking at the Limit with Freud and Lacan

Contributors include Jon Mills, Tom Rockmore, Stephen David Ross, John Russon, John Sallis, Shannon Sullivan, Maria Talero, Wilfried Ver Eecke, Bruce Wilshire, and Emily Zakin.