The Danger of Change: The Kleinian Approach with Patients Who Experience Progress as Trauma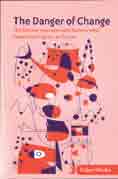 Book Details
Publisher : Routledge
Published : 2006
Cover : Paperback
Category :
Psychoanalysis
Catalogue No : 92109
ISBN 13 : 9780415385855
ISBN 10 : 0415385857
Reviews and Endorsements
Divided into four sections, this book covers: reluctant patients and the fight against change: caught between the paranoid and depressive world; greed and the dangers of change; interruptions to the process of change: loss, envy, and the death instinct; working toward change in the face of overwhelming odds.

Extensive and detailed clinical material is used to bring clarity to subjects including symbolism, conflict resolution, projective identification, the depressive and paranoid positions, and, change and trust. The Danger of Change brings hope and clarity to cases involving patients who experience progress as a threat to their emotional well-being.It will be of great interest to all practising psychoanalysts, as well as those studying psychoanalytic theory and practice.

Contents:
Introduction. Acknowledgments. Part I: Reluctant Patients and the Fight Against Change: Caught Between the Paranoid and Depressive World. I Hear You Knocking But You Can't Come In. Mistrust of the Good Object. Fighting Off the Good Object. Problems in Receiving. Part II: Greed and the Dangers of Change. Melanie Klein's Theory of Greed. The Frightening Rumble of Psychic Hunger. The Impossible Dream. Greed, Idealization, and Insatiability. Setting the Bar Too High. Part III: Interruptions to the Process of Change: Loss, Envy, and the Death Instinct. The Clinical Advantage of the Death Instinct. Acting Out and the Death Instinct. Borderline and Psychotic Patients. Oral Deprivation, Envy, and Sadism. Part IV: Working Toward Change in the Face of Overwhelming Odds. A Case Study of Borderline Anxiety, Bargains, Treaties, and Delusions. Symbolization and the Good Object. Summary.