Carved by Experience: Vipassana, Psychoanalysis, and the Mind Investigating Itself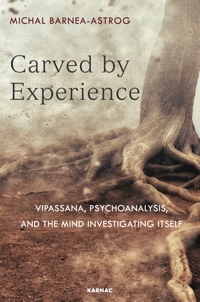 Reviews and Endorsements
'This is a powerful and important book. It reads like a work into which the author has poured her life. Michal Barnea-Astrog combines rigorous scholarship from two different fields and builds a discourse between them. She writes with clarity and lucidity that often becomes poetic. I have spent my lifetime as a psychiatrist and Vipassana meditator, and yet I found myself educated by every page. Barnea-Astrog has written a book that is both a psychotherapeutic textbook, and an intimate testament.'
- Paul R. Fleischman, MD, author of Wonder: When and Why the World Appears Radiant, and recipient of the American Psychiatric Association's Oskar Pfister Award for his contributions to the study of psychiatry and religion

'This excellent book offers new thoughts about some major issues in psychoanalysis and presents a fresh perspective on psychoanalytic thought, as well as in-depth knowledge on early Buddhism, in simple and lucid language. This is a truly innovative book – original and highly important.'
- Esther Pelled, PhD, author of Psychoanalysis and Buddhism: About the Capacity to Know

'Michal Barnea-Astrog has written a creative, well-researched book that deepens our understanding of both Buddhism and psychoanalysis. It is an invaluable addition to the literature, and elegantly demonstrates what each tradition can teach us about suffering, growth, and the nature of the human mind.'
- Axel Hoffer, MD, Associate Professor of Psychiatry, Harvard Medical School, Training and Supervising Analyst, Boston Psychoanalytic Society and Institute, and author of Freud and the Buddha: The Couch and the Cushion

'This book is the product of original and pioneering research in the fascinating articulation between Buddhism and psychoanalysis. Avoiding the simplifications all too often marking this field, Michal Barnea-Astrog introduces a new perspective: The potential held by the cross fertilization of the Buddhist notion of mutual arising and the psychoanalytical notion of projective identification. In an engrossing and extremely readable analysis inspired by these two major theories of the psyche - ostensibly as far apart as east and west - Barnea-Astrog brings them into dialogue. She introduces new ways of looking at individuals, their relations with themselves, with others and with the world and new types of work with the discontents of our lives and the mind's possibility of deep healing.'
- Prof. Yakov Raz, The Department of East Asian Studies Tel Aviv University, author of Yakuza, My Brother, Return Trip to Tokyo, Zen Buddhism: Philosophy and Aesthetics, Thus I've Heard: Zen Writings, and more.