Minding the Child: Mentalization-based Interventions with Children, Young People and Their Families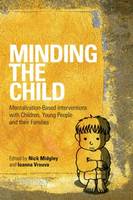 Book Details
Publisher : Routledge
Published : 2012
Cover : Paperback
Pages : 248
Category :
Child and Adolescent Studies
Catalogue No : 33027
ISBN 13 : 9780415605250
ISBN 10 : 0415605253
Reviews and Endorsements
Contents
Midgley, Vrouva, Introduction.
Part I: The Concept of "Mentalization": Theory and Research.
Fonagy, Allison, What is Mentalization? The Concept and its Foundations in Developmental Research.
Sharp, Venta, Mentalizing Problems in Children and Adolescents. Vrouva, Target, Ensink, Measuring Mentalizing in Children and Young People.
Part II: Clinic-based Interventions.
Nijssens, Luyten, Bales, Mentalization-Based Treatment for Parents (MBT-P) with Borderline Personality Disorder and their Infants. Keaveny, Midgley, Asen, Bevington, Fearon, Fonagy, Jennings Hobbs, Wood, Minding the Family Mind: The Development and Initial Evaluation of Mentalization-Based Treatment for Families.
Muller, Gerits, Siecker, Mentalization-Based Therapies with Adopted Children and their Families.
Rossouw, Self-Harm in Young People: Is MBT the Answer?
Part III: Community-based Interventions.
Malberg, Thinking and Feeling in the Context of Chronic Illness: A Mentalization-Based Group Intervention with Adolescents.
Bevington, Fuggle, Supporting and Enhancing Mentalization in Community Outreach Teams Working with "Hard-to-Reach" Youth: The AMBIT Approach.
Twemlow, Fonagy, Sacco, A Developmental Approach to Mentalizing Communities Through the Peaceful Schools Experiment.
Lundgaard Bak, "Thoughts in Mind": Promoting Mentalizing Communities for Children.