Initiating Psychoanalysis: Perspectives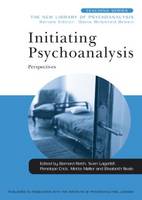 Book Details
Publisher : Routledge
Published : 2012
Cover : Paperback
Pages : 360
Category :
Psychoanalysis
Catalogue No : 32108
ISBN 13 : 9780415554985
ISBN 10 : 0415554985
Reviews and Endorsements
'This thoughtful book reminded me how difficult it can be to listen fairly and objectively to our colleagues' clinical material, particularly so when it concerns a first interview. [...] I congratulate the editors of this book for offering us a thoughtful, searching and important publication.'
- Anne-Marie Sandler, from the Foreword.

Contents:
Moller, Lagerlof, Reith, General Introduction. PART I: 'Are you a Doctor, Sir?' Lagerlof, Skale, Introduction. Freud, Katharina. Skale, Commentary. Argelander, The Psychoanalytic Initial Interview and its Method: A Postscript to Freud's Case 'Katharina'. Lagerlof, A Short Overview of the Development of Ideas about 'First Interviews' after Freud. PART II: Consultation and Referral. Crick, Introduction. Gibeault, Commentary. Kestemberg, Well, then, Anything New? What that First Interview Can Teach Us. Crick, Commentary. Klauber, Personal Attitudes to Psychoanalytic Consultation. Crick, Commentary. Bronstein, Flanders, The Development of a Therapeutic Space in a First Contact with Adolescents. Gibeault, Commentary. Baldacci, Bouchard, The Analytic Encounter: A Historical and Process-Oriented Perspective. Gibeault, Commentary. Donnet, de M'Uzan, The Analytical Encounter. Jaffe, Commentary. Bolognini, The Profession of Ferryman: Considerations on the Analyst's Internal Attitude in Consultation and in Referral. PART III: The Analyst's Struggle with the Experience of a First Meeting. Moller, Introduction. Moller, Commentary. Ogden, Comments on Transference and Countertransference in the Initial Analytic Meeting. Wegner, Commentary. Dantlgraber, Observations on the Subjective Indication for Psychoanalysis. Skale, Commentary. Wegner, The Opening Scene and the Importance of Countertransference. Jaffe, Commentary. Racalbuto, The Consultation in Psychoanalysis and its Places: Working on the Frontier. Jaffe, Commentary. Ferro, Consultation, Reverie and Story-Telling. PART IV: Daring or Reluctance to Start Analysis? Reith, Introduction. Reith, Commentary. Rothstein, A Perspective on Doing a Consultation and Making the Recommendation of Analysis to a Prospective Analysand. Gibeault, Commentary. David, In What Frame of Mind should the First Interview be Approached? Reith, Commentary. Quinodoz, The Psychoanalyst of the Future: Wise Enough to Dare to be Mad at Times. Moller, Commentary. Ehrlich, The Analyst's Reluctance to Begin a New Analysis. Vermote, Making the Best of a Bad Job.