Broken Bounds: Contemporary Reflections on the Antisocial Tendency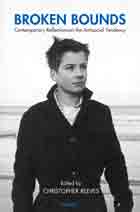 Book Details
Publisher : Karnac Books
Published : 2012
Cover : Paperback
Pages : 160
Category :
Psychoanalysis
Catalogue No : 32092
ISBN 13 : 9781780490373
ISBN 10 : 1780490372
Reviews and Endorsements
'There are few in the broad world of psychoanalysis who do not find themselves enlivening their conversations from time to time with much cherished quotes from the imaginative mind of D. W. Winnicott. His writings are filled with such fine observations that it is impossible not to be captured by the insights that he drew from them. He learnt a great deal from his experiences as a paediatrician, psychiatrist and psychoanalyst, and made a major contribution to the understanding and significance of the early mother/infant relationship. This monograph, which marks the fortieth anniversary of his death, pays tribute especially to his enduring concept of the anti-social tendency. There is much here of interest to a wide readership. Child development; individual, residential, and systemic therapy; a history of social policy; and the relationship between child and state are just some of the subjects covered. All the contributors have been inspired in one way or another by the creativity of Winnicott's compassion and intuition, invaluable in its relevance to the perplexities of our time.'
- Peter Wilson, Consultant Child and Adolescent Psychotherapist, co-founder and former Director of YoungMinds, and Clinical Adviser to The Place2Be

The book comprises six lectures, each exploring from a different viewpoint the current relevance of Winnicott's reflections on the nature and sources, as well as the management, of "the antisocial tendency" in the context of today's social problems affecting the young.

Current debates about "the sick society" and its causes indicate a current widespread unease about the quality of much contemporary child-rearing practice, together with uncertainty and disagreement over its precise causes and remedies. Sixty years ago, as a consequence of war and its aftermath, there was a comparable concern to provide a better future for the nation's young people. Donald Winnicott took a prominent part in shaping those deliberations, both through his broadcasts and his writings, some directed at ordinary parents, others towards fellow professionals. This series of lectures considers the contemporary relevance of Winnicott's observations and recommendations and reflects on what has happened to the relationship between child, the family and the outside world over that same period of time.

Subject areas covered by the book include: antisocial tendency; delinquency; family functioning; the distribution of responsibilities between parents and government agencies of all sorts over the upbringing of children;children's welfare and their preparation for life in society.

This book will be of interest to: child and adolescent psychiatrists and psychotherapists; social workers; those working in residential therapeutic establishments for young people; child and forensic psychologists; course tutors in criminology, social psychology and anthropology; politicians.

LECTURE ONE
Adrian Ward: Learning to live with the Antisocial Tendency: The Challenge of Residential Care and Treatment

LECTURE TWO
Olive Stevenson: Responses to Antisocial Youth: Does Donald Winnicott have Messages for us Today?

LECTURE THREE
Christopher Reeves: Can the State ever be a "Good Enough Parent"?

LECTURE FOUR
Ann Horne: Winnicott's Delinquent

LECTURE FIVE
Jenny Sprince (with an Introduction by Judith Trowell): Heroic Delinquency and the Riddle of the Sphinx

LECTURE SIX
Richard Rollinson: Society and the Antisocial Tendency: "Physician, heal Thyself!"