Intersubjective Processes and the Unconscious: An Integration of Freudian, Kleinian and Bionian Perspectives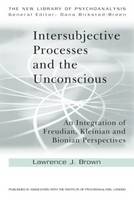 Book Details
Publisher : Routledge
Published : 2011
Cover : Paperback
Pages : 240
Category :
Psychoanalysis
Catalogue No : 30493
ISBN 13 : 9780415607001
ISBN 10 : 0415607000
Reviews and Endorsements
'Lawrence Brown's work is a tour de force. It is an invaluable and timely monograph on one of the most important, if not the most important, paradigm changes in analytic technique to date. His work is quantitatively encyclopedic in its range and qualitatively is pleasingly and eloquently written.'
- James S. Grotstein, from the Foreword

Contents:
Introduction. The Analyzing Instrument: Unconscious Communication and Classical Psychoanalysis. Klein, Bion and Intersubjectivity: Becoming, Transforming and Dreaming. The Ego Psychology of Wilfred Bion: Implications for an Intersubjective View of Psychic Structure. Intersubjectivity and Unconscious Process: An Integrated Model. Intersubjectivity and the Internalized Oedipal Couple. Julie's Museum: The Evolution of Thinking, Dreaming and Historicization in the Treatment of Traumatized Patients. The Triadic Intersubjective Matrix in Supervision. On Dreaming One's Patient: Reflections on an Aspect of Countertransference Dream. Conclusions and Reflections: Dreaming the Future. References.