Body, Mind and Healing After Jung: A Space of Questions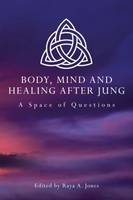 Book Details
Publisher : Routledge
Published : 2010
Cover : Paperback
Pages : 280
Category :
Jung and Analytical Psychology
Catalogue No : 29827
ISBN 13 : 9780415483070
ISBN 10 : 0415483077
Reviews and Endorsements
'This book offers a welcome interdisciplinary approach to Jungian psychology, with a focus on the embodied nature of the psyche. An important theme is that of the mind as emergent, in terms of neurobiology, personal relationships and the wider cultural context, creating a stimulating dialogue between these different perspectives.'
- Dr Jean Knox, Training Analyst of the Society of Analytical Psychology, Consultant Editor of the Journal of Analytical Psychology and Honorary Senior Lecturer at the University of Kent

'A set of bold discourses, validating the body as central to the intersubjective field that is contemporary therapy.'
- Dr Dale Mathers, professional member of the Association of Jungian Analysts

Contents:
Jones, Introduction. Maoz and Arbit, Returning to Life: Trauma Survivors' Quest for Reintegration. Romanyshyn, The Body in Psychotherapy: Contributions of Merleau-Ponty. Sherwood, The Embodied Psyche: Movement, Sensation, Affect. Jones, The 'Child' motif in theorizing about embodied subjectivity. Saban, Fleshing out the psyche: Jung, psychology and the body. Saban, Staging the Self: Performance, Individuation and Embodiment. Muramoto, The Buddhist concept of mind and body in diversity. Miller, A Sami Healer's Diagnosis: A case of embodied countertransference? Nakamura, Struggles, Commercialism, 'Ideal' Feminine Images and Internal Oppression: Eating disorders and the pursuit thinness in Japan. Barone-Chapman, Pregnant Pause: Procreative Desire, Reproductive Technology and Narrative Shifts at Midlife. Dowd, Mind the Gap: Explorations in the Subtle Geography of Identity. Farah, The Body in the Postmodern World -- A Jungian Approach. Ribeiro-Blanchard, Seixas and Rios, The Body in Psychotherapy: Calatonia and Subtle Touch Techniques. Fuselier and Winegarden, 'Crouching Tiger, Hidden Dragon': The transformative power of posture and breath.