Marital Conflict and Children: An Emotional Security Perspective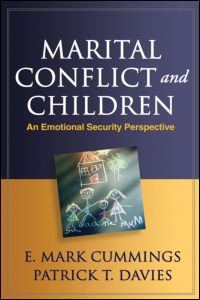 Reviews and Endorsements
Contents
Part I: New Directions in the Study of Children and Marital Conflict. Marital Conflict and Risky Families. The Emergence of Process-oriented Approaches: Emotional Security Theory.
Part II: Child Effects of Exposure to Marital Conflict. Identifying Constructive and Destructive Marital Conflict. Testing Process-oriented Models of the Direct Effects of Exposure to Marital Conflict.
Part III: Contextualizing Marital Conflict. The Role of Parenting in the Context of Marital Conflict: Indirect Pathways and Processes. Contextual Vulnerability and Protective Models. Development Over Time in Contexts of Marital Conflict.
Part IV: Future Directions. Applications of Findings and Translational Research. Beyond the Marital Dyad: From Bowlby to Political Violence.
Appendices: Coding Systems and Methodology.
A: Conflict in the Interparental System (CIS)-Observational Coding.
B: Security in the Interparental Subsystem Scale (SIS)-Child Report.
C: Security in the Marital System-parent Report (SIMS-PR) Scale.
D: Advanced Measurement and Research Design Issues for a Process-oriented Approach.