Borderline Personality Disorder: Meeting the Challenges to Successful Treatment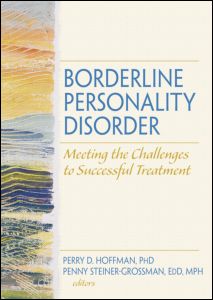 Reviews and Endorsements
Although there has been an increasing interest in BPD in terms of research funding, treatment advancement, and acknowledgment of family perspective over the last decade, the fact remains that the disorder is still highly stigmatized. Borderline Personality Disorder: Meeting the Challenges to Successful Treatment provides social workers and other mental health clinicians with practical access to the knowledge necessary for effective treatment in a single volume of the most current research, information, and management considerations. This important collection explores the latest methods and approaches to treating BPD patients and supporting their families. This useful text also features handy worksheets and numerous tables that present pertinent information clearly.

Chapters include:
* an overview of Borderline Personality Disorder
* confronting myths and stereotypes about BPD
* biological underpinnings of BPD
* BPD and the need for community - a social worker's perspective on
* an evidence-based approach to managing suicidal behavior in BPD patients
* Dialectical Behavior Therapy
* supportive psychotherapy for borderline patients
* Systems Training for Emotional Predictability and Problem Solving (STEPPS)
* Mentalization-based Treatment
* fostering validating responses in families
* Family Connections: an education and skills training program for family member wellbeing

Full of practical, useable ideas for the betterment of those affected by BPD, "Borderline Personality Disorder: Meeting the Challenges to Successful Treatment" is a valuable resource for social workers, psychologists, psychiatrists, and counselors, as well as students, researchers, and academics in the mental health field, family members, loved ones, and anyone directly affected by BPD.