On Freud's "Splitting of the Ego in the Process of Defence"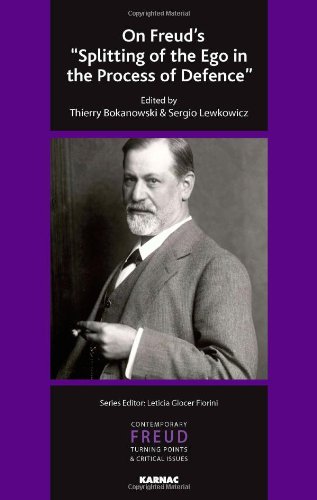 Book Details
Publisher : Routledge
Published : 2009
Cover : Paperback
Pages : 240
Category :
Psychoanalysis
Catalogue No : 28037
ISBN 13 : 9781855757554
ISBN 10 : 1855757559
Reviews and Endorsements
A volume of the Contemporary Freud Series

Contributors: Ira Brenner, Gérard Bayle, Penelope Garvey, Stefano Bolognini, Julio Moreno, Thierry Bokanowski, Luis Kancyper, Raul Hartke, Louise Carignan, Rubén Zukerfeld

'Freud's 'Splitting of the Ego' shows his last thoughts especially concerning fetishism and psychosis, and it also enlightens his ideas on the non-unified structure of the ego. He focuses on the question of the relation between the ego and reality and introduces another model different from that of repression and the return of the repressed, by establishing the notion of disavowal as a specific psychic mechanism concerning the ego. The editors, Thierry Bokanowski and Sergio Lewkowicz, together with the contributors to this volume, accepted the challenge to consider Freudian ideas and their expansions and implications in contemporary psychoanalysis.'
- Leticia Glocer Fiorini

'The introduction by Freud of the concept of splitting, followed by the changes incorporated by those who gave continuity to it having a direct implication for the concept of countertransference, via the notion of projective identification, made possible the formulation of other clinical ideas and approaches that before perhaps were unthinkable. We could cite the concepts of "analytic third" proposed by Ogden in 1994 and "analytic-pair" suggested by Antonino Ferro as fruits of this seminal concept. And among these we could also mention, for example, the notions of container/contained and revêrie. I believe we may end here by inviting the reader to read each one of the chapters with the utmost attention and bearing in mind that, thanks to the concept of splitting, today we can count on psychoanalytic theory and practice that is richer and, at the same time, more complex and challenging.'
- Elias Mallet da Rocha Barros

Contents
PART I - "Splitting of the Ego in the Process of Defence" (1940) Sigmund Freud

PART II - Discussion of "Splitting of the Ego in the Process of Defence"