Bewitched, Bothered and Bewildered: How Couples Really Work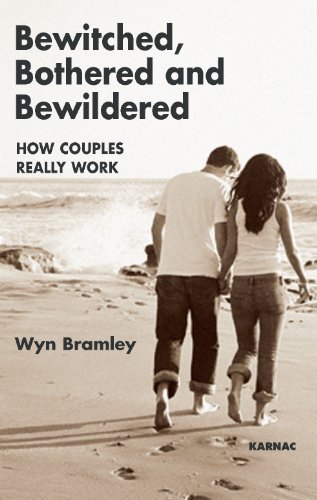 Book Details
Publisher : Karnac Books
Published : 2008
Cover : Paperback
Pages : 270
Category :
Family, Couple and Systemic Therapy
Catalogue No : 26253
ISBN 13 : 9781855756502
ISBN 10 : 1855756501
Reviews and Endorsements
'I salute Wyn Bramley for having written a book which manages to be both serious and playful, jargon-free yet psychoanalytically rich, as well as refreshingly accessible but still informative for seasoned practitioners. "Bewitched, Bothered and Bewildered: How Couples Really Work" embraces the best of classical psychodynamic thinking about marriage, and presents it in a highly resonant manner, infused with instantly recognisable examples from literature and from daily life. I recommend this book as essential reading for anyone who is married, or has been married, or may wish to marry.'
- Brett Kahr, Chair, Society of Couple Psychoanalytic Psychotherapists and Visiting Clinician, Tavistock Centre for Couple Relationships at the Tavistock Institute of Medical Psychology, London, Author of Sex and the Psyche.

Author Biography
Wyn Bramley was Senior Psychiatric Sister at the Cassel Hospital (one of the first psychoanalytically oriented "therapeutic communities" in the UK). She then moved into Student Counselling. Over a fifteen year period, she set up and headed the counselling service at what is now the University of Westminster, before transferring to a similar role at University College, London. During this period she qualified (1976) at the Institute of Group Analysis and Family and Marital Therapy (now Institute of Group Analysis), whilst setting up in-service training programmes with colleagues, for what was to become the national Association for Student Counselling. In 1986 she moved to Oxford, working as a trainer and clinician in both the private and NHS sectors. In the mid 1990's she set up and then directed the Master's Programme in Psychodynamic Studies at Oxford University. In 1996 she published two books expounding her non doctrinaire view of psychodynamic therapy. Pertinent to "Bewitched Bothered and Bewildered: How Couples Really Work" is her book "The Broad Spectrum Psychotherapist" published by Free Association Books. Currently, she runs a small private practise in rural Oxfordshire.