The Politics of Psychotherapy: New Perspectives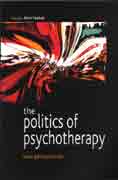 Reviews and Endorsements
This unique collection by leading authors explores the links between therapy and the political world, and their contribution to each other. Topics covered include:

* Psychotherapy in the political sphere, including the roots of conflict, social trauma, and ecopsychology.
* Political dimensions of psychotherapy practice, such as discrimination, power, sexuality, and postcolonial issues.
* Psychotherapy, the state and institutions, including the law and ethics, and psychotherapy in healthcare.
* Working at the interface, examples of therapy in political action from Croatia, the USA, the UK and Israel/Palestine.

Contributors:
Lane Arye, Arlene Audergon, Emanuel Berman, Sandra Bloom, Jocelyn Chaplin, Petruska Clarkson, Chess Denman, Dawn Freshwater, Kate Gentile, John Lees, Renos Papadopoulos, Hilary Prentice, Mary-Jayne Rust, Judy Ryde, Andrew Samuels, Nick Totton.