Sandplay in Three Voices: Images, Relationships, The Numinous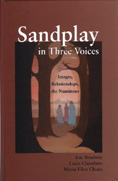 Reviews and Endorsements
The book is organized into eight sections covering eight of the most important topics in sandplay - Therapist, Silence, Child, Mother, Self, Shadow, Chaos, and Numinous. Each section begins with a trialogue discussing the theory, history and practice of sandplay in each area. The trialogues allow the reader to witness three senior therapists addressing and attempting to understand the many layers of each topic, and reflect their agreements and disagreements as they reveal their individual thoughts on, and personal experiences of, the themes they discuss. Each trialogue is followed by a solo presentation in which each author focuses on her contribution, and on the role of each topic in sandplay.

Illustrated by original clinical examples this unique approach addresses issues of concern to analysts and other psychotherapists. Its basic orientation makes is of particular value in the study, practice and teaching of sandplay therapy

Contents:
T. Singer, Foreward. Acknowledgements. Kay Bradway, Introduction. Part 1: Client. Client Trialogue. Maria Ellen Chiaia, Client. Kay Bradway, Client. Lucia Chambers, Client. Part 2: Silence. Silence Trialogue. Maria Ellen Chiaia, Silence. Kay Bradway, Silence. Lucia Chambers, Silence. Part 3: Child. Child Trialogue. Maria Ellen Chiaia, Child. Kay Bradway, Child. Lucia Chambers, Child. Part 4: Mother. Mother Trialogue. Maria Ellen Chiaia, Mother. Kay Bradway, Mother. Lucia Chambers, Mother. Part 5: Self. Self Trialogue. Maria Ellen Chiaia, Self. Kay Bradway, Self. Lucia Chambers, Self. Part 6: Shadow. Shadow Trialogue. Maria Ellen Chiaia, Shadow. Kay Bradway, Shadow. Lucia Chambers, Shadow. Part 7: Chaos. Chaos Trialogue. Maria Ellen Chiaia, Chaos. Kay Bradway, Chaos. Lucia Chambers, Chaos. Part 8: Numinous. Numinous Trialogue. Maria Ellen Chiaia, Numinous. Kay Bradway, Numinous. Lucia Chambers, Numinous.


Author Biography:
Kay Bradway, Ph.D., is a founding member of the C.G. Jung Institute if San Francisco and of the International Society of Sandplay Therapy, co-founder of Sandplay Therapists of America. She is co-author of two books on sandplay.

Lucia Chambers, M.A. is co-founder and currently educational consultant of Sandplay Therapists of America. She is known for her research on the archetypal feminine and the Black Madonna.

Maria Ellen Chiaia, Ph.D., is a teaching member of the international and national societies of Sandplay Therapy and is currently board chair of the national society. She is an international lecturer and author of numerous publications.