The Matrix of the Mind: Object Relations and the Psychoanalytic Dialogue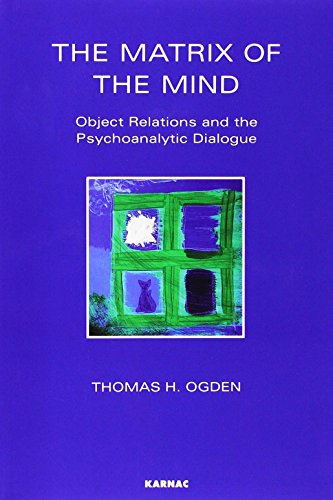 Book Details
Publisher : Routledge
Published : 1992
Cover : Paperback
Pages : 286
Category :
Psychoanalysis
Catalogue No : 10
ISBN 13 : 9781855750401
ISBN 10 : 1855750406
Reviews and Endorsements
'The Matrix of the Mind is a book both highly scholarly and long overdue. In it, Dr Thomas H. Ogden establishes himself as a major psychoanalytic theoretician. He generates new psychoanalytic understandings that can be used to remove the alienation within the field and enrich the thinking of not only North American analysts but those who have followed the British object relations theory as well, The Matrix of the Mind is one of the most important psychoanalytic books to appear in many years.'
- L. Bryce Boyer, M.D.

'All who are acquainted with Thomas Ogden's papers on psychoanalysis and with his authoritative book Projective Identification and Psychotherapeutic Technique have eagerly awaited the publication of The Matrix of the Mind. Ogden supplies an approach to Kleinian theory that is both eminently appreciative and incisively critical. He comprehensively and brilliantly surveys the development of the concept of internal objects and relationships. The chapters dealing with winnicott's theoretical and clinical contribution to the history of psychoanalytic thought are particularly profound and original. This eminently readable and thought provoking book will be read with interest not only by dedicated psychotherapeutic workers in varied fields, but also by all those who take an intelligent interest in the way human beings function psychologically.'
- Joyce McDougall, D.Ed.

'Thomas Ogden puts the contributions of Klein, Bion and the British object relations school into a new and refreshing perspective. His approach is unique, innovative, and far-reaching. This book is a brilliant tour-de-force in refining and clarifying the present and continuing importance of object relations theory for psychoanalytic thinking and practice.'
- James S. Grotstein, M.D.