On Psychoanalysis and Violence: Contemporary Lacanian Perspectives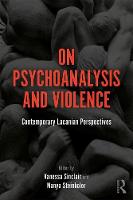 About the Editor(s)
Vanessa Sinclair, PsyD, is a psychoanalyst based in Stockholm. Dr Sinclair is the author of Switching Mirrors, editor of Rendering Unconscious: Psychoanalytic Perspectives, Politics and Poetry, and co-editor of On Psychoanalysis and Violence: Contemporary Lacanian Perspectives with Dr Manya Steinkoler.
More titles by Vanessa Sinclair
Manya Steinkoler is a psychoanalyst in private practice in New York City and a professor in the Department of English at Borough of Manhattan Community College.