Ferenczi's Influence on Contemporary Psychoanalytic Traditions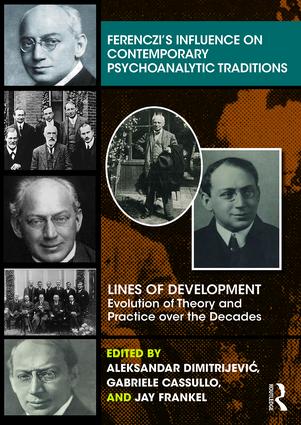 Book Details
Publisher : Routledge
Published : 2018
Cover : Paperback
Pages : 384
Category :
Psychoanalysis
Catalogue No : 40857
ISBN 13 : 9781782206521
ISBN 10 : 1782206523
About the Editor(s)
Aleksandar Dimitrijevic, PhD, is interim professor of psychoanalysis and clinical psychology at the International Psychoanalytic University, Berlin, Germany. He is a member of the Belgrade Psychoanalytical Society (IPA) and Faculty at the Serbian Association of Psychoanalytic Psychotherapists (EFPP), and the editor or co-editor of ten books or special journal issues, as well as author of many conceptual and empirical papers, about attachment theory and research, psychoanalytic education, psychoanalysis and the arts.
Gabriele Cassullo is a psychologist, psychotherapist, doctor in research in human sciences and interim professor in psychology at the Department of Psychology, University of Turin. He researches and publishes on the history, theory, and technique of psychoanalysis.
Jay Frankel is an Adjunct Clinical Associate Professor and Clinical Consultant in the New York University Postdoctoral Program in Psychotherapy and Psychoanalysis; Faculty at the Institute for Psychoanalytic Training and Research, and at the Trauma Studies Program at the Manhattan Institute for Psychoanalysis, both in New York; Associate Editor, and previously Executive Editor, of Psychoanalytic Dialogues; co-author of Relational Child Psychotherapy; and author of over two dozen journal articles and book chapters, and numerous conference presentations, on topics including the work of Sándor Ferenczi, trauma, identification with the aggressor, authoritarianism, the analytic relationship, play, child psychotherapy, relational psychoanalysis, and others.