The Greening of Psychoanalysis: André Green's New Paradigm in Contemporary Theory and Practice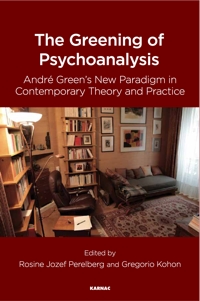 Book Details
Publisher : Routledge
Published : 2017
Cover : Paperback
Pages : 192
Category :
Psychoanalysis
Catalogue No : 39754
ISBN 13 : 9781782205623
ISBN 10 : 1782205624
About the Editor(s)
Rosine Jozef Perelberg, PhD, is a Fellow and Training Analyst of the British Psychoanalytic Society, Visiting Professor in the Psychoanalysis Unit at University College London, and Corresponding Member of the Paris Psychoanalytical Society. She edited Gender and Power in Families (with Ann Miller); Psychoanalytic Understanding of Violence and Suicide; Female Experience: Four Generations of British Women Psychoanalysts on Work with Women (with Joan Raphael-Leff); Freud: A Modern Reader; Time and Memory; and Dreaming and Thinking. She is the author of Time, Space and Phantasy and Murdered Father, Dead Father: Revisiting the Oedipus Complex (2015). In 2007 she was named one of the ten women of the year by the Brazilian National Council of Women.
More titles by Rosine J. Perelberg
Gregorio Kohon is a Fellow and Training Analyst of the British Psycho-Analytical Society and works in London in private practice. He edited The British School of Psychoanalysis: The Independent Tradition, and The Dead Mother: The Work of André Green. He also published No Lost Certainties to be Recovered; Love and its Vicissitudes (co-authored with André Green), and Reflections on the Aesthetic Experience: Psychoanalysis and the Uncanny (2015). He is also a poet and a writer. His new book, British Psychoanalysis - An Independent Tradition is to be published in 2018.