Counterdreamers: Analysts Reading Themselves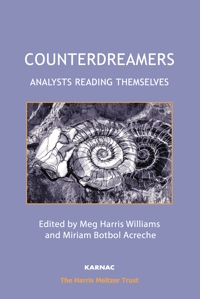 Book Details
Publisher : Harris Meltzer Trust
Published : 2018
Cover : Paperback
Pages : 256
Category :
Psychoanalysis
Catalogue No : 38833
ISBN 13 : 9781782204671
ISBN 10 : 1782204679
About the Editor(s)
Meg Harris Williams, a writer and artist, studied English at the Universities of Cambridge and Oxford and art at the Accademia di Belle Arti in Florence, and has had a lifelong psychoanalytic education, working closely with Donald Meltzer. She has written and lectured extensively in the UK and abroad on psychoanalysis and literature. She is a visiting lecturer for AGIP and at the Tavistock Centre in London, and an Honorary Member of the Psychoanalytic Center of California. She is married with four children and lives in Farnham, Surrey.
More titles by Meg Harris Williams
Miriam Botbol is a clinical psychologist and a founder member of the Psychoanalytic Group of Barcelona (GPB) which supervised with Donald Meltzer for many years. She works with children and adults and has a special interest in parents. She taught in Barcelona and Rosario, Argentina, where she lives now. She has published chapters in various books, such as: Teaching Meltzer: A Meltzer Reader, Bebés: experiencias desde un vértice psicoanalítico, De un taller psicoanalítico a partir de Donald Meltzer. She is the author of the books Bebé, bienvenido al mundo (0-3 años), El orgullo de descubrir (3-6 años) and Sueños, símbolos y perspectiva estética: Un trayecto psicoanalítico personal en compañía de Donald Meltzer.