Clinical Dialogues on Psychoanalysis with Families and Couples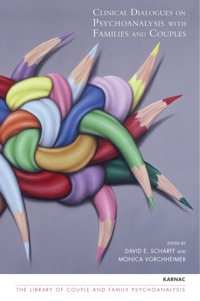 About the Editor(s)
David E. Scharff, MD, is Chair of the International Psychoanalytical Association's Committee on Family and Couple Psychoanalysis; Chair of the Board, Founder and former Director of the International Psychotherapy Institute, Washington, DC; and Clinical Professor of Psychiatry at Georgetown University and the Uniformed Services University of the Health Sciences. He is the founding Editor-in-Chief of the journal Psychoanalysis and Psychotherapy in China, and author and editor of numerous books and articles, including The Sexual Relationship, Object Relations Family Therapy (with Jill Savege Scharff), Object Relations Couple Therapy, The Interpersonal Unconscious, and Psychoanalytic Couple Therapy.
More titles by David E. Scharff
Monica Vorchheimer is a training and supervising analyst, Buenos Aires Psychoanalytical Association (APdeBA); full member, International Psychoanalytical Association and member of IPA Committee on Couple and Family Psychoanalysis; member, Latin American Psychoanalytic Federation (FEPAL), the European Federation of Psychotherapy (FEAP); and honorary member of AAPPIPNA (Spain). She is currently Professor at the University Institute of Mental Health in Buenos Aires, where she is in private practice.