The Clinician's Guide to Bipolar Disorder: Integrating Psychopharmacology and Psychotherapy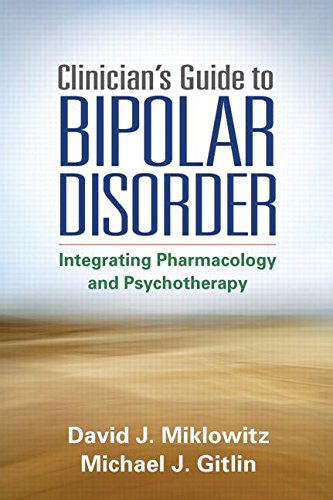 About the Author(s)
David J. Miklowitz, PhD, is Professor of Psychiatry at the University of California, Los Angeles (UCLA), School of Medicine and Senior Clinical Researcher at the University of Oxford, United Kingdom. He directs the Child and Adolescent Mood Disorders Program and the Integrative Study Center in Mood Disorders at the UCLA Semel Institute for Neuroscience and Human Behavior. Dr. Miklowitz is a recipient of the Distinguished Investigator Award from the National Alliance for Research on Schizophrenia and Depression, the Mogens Schou Award for Research from the International Society for Bipolar Disorders, the Bipolar Mood Disorder Research Award from the Brain and Behavior Research Foundation, and the Gerald L. Klerman Senior Investigator Award from the Depressive and Bipolar Support Alliance.
More titles by David J. Miklowitz
Michael J. Gitlin, MD, is Professor of Clinical Psychiatry at the UCLA School of Medicine, where he is Director of the Adult Division in the Department of Psychiatry. He is also Director of the Mood Disorders Clinic at the UCLA Neuropsychiatric Hospital. Dr. Gitlin is the author of many scientific articles and book chapters as well as two editions of The Psychotherapist's Guide to Psychopharmacology. His awards include the Distinguished Educator Award from the UCLA Department of Psychiatry, the Teacher of the Year Award from Psychiatric Times, the Dadone Clinical Teaching Award from the Geffen School of Medicine at UCLA, and the Leonard Tow Humanism in Medicine Award from the Arnold P. Gold Foundation.