Fostering Good Relationships: Partnership Work in Therapy with Looked After and Adopted Children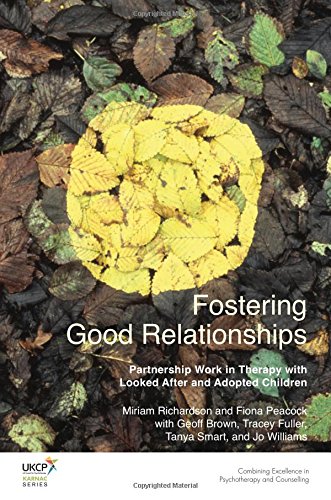 Book Details
Publisher : Karnac Books
Published : 2016
Cover : Paperback
Pages : 190
Category :
Child and Adolescent Studies
Catalogue No : 35449
ISBN 13 : 9781782201519
ISBN 10 : 1782201513
About the Author(s)
Miriam Richardson is a Systemic Psychotherapist, supervisor and trainer. She worked with the NHS Child and Adolescent Mental Health Service (CAMHS) from 1999 to 2008, initially in a Community Psychotherapy Project, and then as Lead Clinician with a specialist Children Looked After Service. Since leaving CAMHS she has developed an independent practice to include work with Looked After and Adopted children and other young people. She has tutored on the MSc programme in Systemic Therapy at the University of Bedfordshire, and the Institute of Family Therapy's Agency Based Training programme for social workers, inter alia.
Fiona Peacock is a BACP Senior Accredited Counsellor, Certified Theraplay® Therapist and Trainer. She is also in training as a Theraplay Supervisor. For twenty years she has worked as a counsellor in various educational settings and in CAMHS. Currently she teaches at the University of Cambridge Faculty of Education, and runs a private practice providing a generic school counselling service and delivering a highly specialist service for Looked After and Adopted Children. The highly specialist work is usually commissioned by Local Authorities and often delivered in educational settings.
Geoff Brown began working in Child and Adolescent Psychiatry in the 1980s, taking a special interest in the assessment and treatment of young people with mental health problems arising in the context of childhood abuse trauma. Initially influenced by the ideas of Donald Winnicott, he trained as a psychoanalyst (Jungian) before becoming Consultant in Adolescent Psychiatry at Simmons House, an adolescent inpatient unit linked to University College Hospital, London. In 1995 he moved to St Andrew's Hospital, Northampton and took a leading role in the development of the Adolescent Service there, applying his experience of treating young people in a therapeutic milieu to the care and treatment of adolescents in a secure setting. For the past seven years he has worked in a small team providing an in-reach mental health service at a local authority secure children's home.
Tracey Fuller is a UKCP registered Child and Adolescent Psychotherapeutic Counsellor. She has many years of experience of working therapeutically with children; including working with a Looked After Children's Service, working with the NSPCC and working as a school counsellor in numerous primary and secondary schools. Tracey has taught on the Child and Adolescent Psychotherapeutic Counselling courses at the University of Cambridge Faculty of Education since 2007. She is currently studying for a PhD at Sussex University exploring ethical approaches to sharing young people's information in school counselling settings. Tracey's first career was as a Key Stage 2 teacher.
Tanya Smart has been a UKCP registered Family/Systemic Psychotherapist since 1997. In CAMHS since 2005, she has worked as a Highly Specialised Family/Systemic Psychotherapist, with children, young people and their families/carers and professional networks, as well as in private practice. She also works for the Family Eating Disorder Service providing systemic psychotherapy for young people with a restrictive eating disorder and their families. Since 2010 she has co-led an AFT accredited Family Interventions training run jointly by Surrey University and the Sussex Partnership NHS Trust. She worked previously as a systemic psychotherapist in London schools, as a consultant to child protection teams, practiced in adult mental health, and delivered workshops for professionals with Tracey Fuller (Pegasus Therapeutic Training). She is a qualified systemic supervisor and chair of the Sussex Association of Family Therapy.
Jo Williams attained the Diploma in Social Work in 2006, the Post-Qualifying Childcare Award in Social Work in 2007, and Bachelor of Arts in Child and Adolescent Studies in 2008, and is currently undertaking an MA in Social Work Leadership and Management. She has twenty-two years experience of working with children and vulnerable adults, initially in residential settings and as a qualified social worker and manager within local authority statutory services since 2005. Jo's role within Children's Services has been to provide services to adoptive families, children placed with Special Guardians, Looked After children and children with disabilities. Multi-agency working has been a key driver for Jo in supporting children and their families to achieve good outcomes, along with an interest in facilitating attachment in permanent placements.