Women and Creativity: A Psychoanalytic Glimpse Through Art, Literature, and Social Structure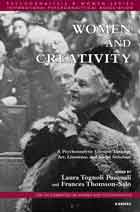 About the Editor(s)
Laura Tognoli Pasquali, after qualifying as a medical doctor in Italy, moved to London where she worked as a psychiatrist in hospitals and therapeutic communities. She trained with the British Psychoanalytical Society in the Kleinian group and in 1976 qualified as an analyst. Back in Italy, she worked in Milan mainly in private practice, becoming a training and supervising analyst in the Italian Psychoanalytical Society. Eventually she moved to a small fishing village on the Ligurian Riviera and there she had the opportunity to cultivate a lifelong interest: growing flowers and plants. Taking care of plants has widened her love of teaching and her attention to clinical work; she has seen many women and men on her couch and thought deeply about their life experiences. As a result she was pleased to accept to become a member of the Committee on Women and Psychoanalysis.
More titles by Laura Tognoli Pasquali
Frances Thomson Salo trained with the British Society as a child and adult psychoanalyst, is a Training analyst and past President of the Australian Psychoanalytical Society, Chair of the International Psychoanalytical Association Committee of Women in Psychoanalysis, an editorial board member of the International Journal of Psychoanalysis, a consultant infant mental health clinician at the Royal Women's Hospital and child psychotherapist at the Royal Children's Hospital, an Honorary Fellow of the Murdoch Children's Research Institute, an Associate Professor on the faculty of the University of Melbourne Graduate Diploma for Infant and Parent Mental Health, and has published on child and infant-parent psychotherapy.