The Winnicott Tradition: Lines of Development—Evolution of Theory and Practice over the Decades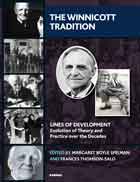 About the Editor(s)
Margaret Boyle Spelman is a registered clinical psychologist, psychoanalytic psychotherapist, and organisational psychologist working for three decades in the Irish Health Services and in private practice since 1998. Margaret is a member of the European Association for Psychotherapy and has held executive positions in The Psychological Society of Ireland, The Irish Institute of Psychoanalytic Psychotherapy, The Irish Forum for Psychoanalytic Psychotherapy and The Irish Council for Psychotherapy. She has Masters degrees in psychology from the three Dublin Universities and her PhD was completed at the Centre for Psychoanalysis, University of Essex.
More titles by Margaret Boyle Spelman
Frances Thomson Salo trained with the British Society as a child and adult psychoanalyst, is a Training analyst and past President of the Australian Psychoanalytical Society, Chair of the International Psychoanalytical Association Committee of Women in Psychoanalysis, an editorial board member of the International Journal of Psychoanalysis, a consultant infant mental health clinician at the Royal Women's Hospital and child psychotherapist at the Royal Children's Hospital, an Honorary Fellow of the Murdoch Children's Research Institute, an Associate Professor on the faculty of the University of Melbourne Graduate Diploma for Infant and Parent Mental Health, and has published on child and infant-parent psychotherapy.