Mothers, Infants and Young Children of September 11, 2001: A Primary Prevention Project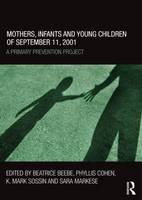 About the Editor(s)
Beatrice Beebe is Clinical Professor of Medical Psychology (in Psychiatry), College of Physicians and Surgeons, Columbia University, New York State Psychiatric Institute; faculty at the Columbia Psychoanalytic Center, the Institute for the Psychoanalytic Study of Subjectivity, and the New York University Postdoctoral Program in Psychotherapy and Psychoanalysis.
Phyllis Cohen, PhD, is the founder and director of the New York Institute for Psychotherapy Training in Infancy, Childhood, and Adolescence. She is also an adjunct assistant professor in the Department of Applied Psychology at New York University.
K. Mark Sossin, PhD, is professor of psychology and the associate chair of the Department of Psychology at Pace University. He is also the director of the Pace Parent-Infant/Toddler Research Nursery.