Enabling and Inspiring: A Tribute to Martha Harris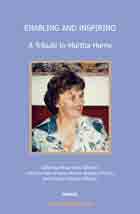 About the Editor(s)
Meg Harris Williams, a writer and artist, studied English at the Universities of Cambridge and Oxford and art at the Accademia di Belle Arti in Florence, and has had a lifelong psychoanalytic education, working closely with Donald Meltzer. She has written and lectured extensively in the UK and abroad on psychoanalysis and literature. She is a visiting lecturer for AGIP and at the Tavistock Centre in London, and an Honorary Member of the Psychoanalytic Center of California. She is married with four children and lives in Farnham, Surrey.
More titles by Meg Harris Williams
Maria Rhode is Emeritus Professor of Child Psychotherapy at the Tavistock Clinic and the University of East London.
Margaret Rustin is a consultant child and adolescent psychotherapist at the Tavistock Clinic, London, and an Associate of the British Psychoanalytical Society. She has pioneered and supported the extension of training in psychoanalytic observational approaches to training across the United Kingdom and in a number of other countries.
More titles by Margaret Rustin
Gianna Williams trained as a child and adult therapist and was part of the teaching staff of the Tavistock Clinic in the 1970s and later Consultant Psychotherapist at the Adolescent Department of the Tavistock, where in 1987 she founded the Eating Disorders Workshop. She has taught at the Tavistock Clinic and University of East London, and the Universities of Pisa and Bologna and has founded numerous courses based on the Tavistock model in Italy, France and Latin America.