Attachment Therapy with Adolescents and Adults: Theory and Practice Post Bowlby: Revised Edition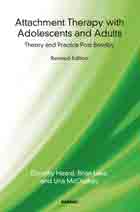 About the Author(s)
Dorothy Heard is a pyschoanalytic psychotherapist in private practice and was formerly a Consultant in John Bowlby's Department at the Tavistock Clinic, London.
Brian Lake was formerly Consultant in Psychotherapy at St James's University Hospital, Leeds.
Una McCluskey graduated from University College Dublin, did her professional social work training at the University of Edinburgh, and got her PhD from the University of York. She has written extensively on individuals, couple, family and group systems, and has developed her own model for exploring attachment dynamics in adult life. Her research on affect attunement in adult psychotherapy led her to develop a theory of interaction for psychotherapy and particularly to identify and rate the concept of goal corrected empathic attunement. Throughout the last ten years she has been providing courses for workers and experienced professionals in the field of psychology, psychotherapy, social work, medicine, organisational management and development, education, nursing, art therapy, legal practice, religious and pastoral carers, to enable them explore their own dynamics of attachment in adult life as outlined by the work of Heard and Lake and to check its application to their personal and work life.