Personality Pathology: Developmental Perspectives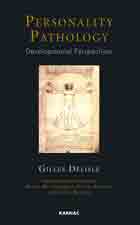 About the Author(s)
Gilles Delisle, Ph.D., is a clinical psychologist and associate professor of psychology at the University of Sherbrooke. He is director of clinical training at CIG in Montreal, and a guest trainer at several institutes abroad. He is the director of Neurogestalt, a specialist group in the International Neuropsychoanalysis Society. In 2010, he was appointed President of the State Advisory Council on Psychotherapy and was awarded the Noel-Mailloux Prize by the Quebec College of Psychologists in recognition of lifetime achievement in clinical psychology.
Having gained a BA degree in Modern Languages from Exeter University, Dinah Ashcroft pursued a successful career in education. She later qualified in humanistic psychology and in gestalt psychotherapy, in which she holds an MSc degree. She has been a trainer and examiner at several institutes. For five years she was an associate editor of the British Gestalt Journal. She is an examiner for MSc in gestalt psychotherapy at Metanoia Institute in conjunction with Middlesex University. She worked for 12 years in Primary Care, and now has a private practice offering psychotherapy and supervision near Winchester in Hampshire, UK.
Lynne Rigaud holds an MSc in Gestalt Psychotherapy from the Metanoia Institute and Middlesex University. She works in France as a bi-lingual psychotherapist. Her specific interests are in Gestalt therapy and addiction. She splits her working time between the regional psychiatric hospital, an out patients clinic for people with addiction problems and her private practice in the Dordogne.
Anne Kearns trained in psychoanalytic psychotherapy in the USA and in Transactional Analysis and Gestalt Therapy in the UK. She is a former Chair and Teaching and Supervising member of the Gestalt Psychotherapy and Training Institute. In 1999 she founded The Growing Edge, a consortium of psychotherapists and other professionals who are interested in the development of the profession of psychotherapy through post-qualification training and consultation. Anne has an MSc in Integrative Psychotherapy and was Course Director of the training in Integrative Group Therapy at the Metanoia Institute from 1994-96 and a Primary Tutor on the Integrative Psychotherapy training from 1994-1999.