Psychoanalysis and Paediatrics: Key Psychoanalytic Concepts with Sixteen Clinical Observations of Children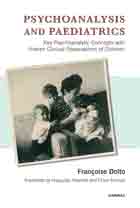 About the Author(s)
Françoise Dolto began her career as a member of the International Psychoanalytical Association, was admired by Winnicott, close to Lacan, and influenced by Morgenstern. Her life witnessed an extraordinary evolution from the conservatism of her parents, through the Second World War, to the turbulence of Paris in the 1950s and 1960s. In the succeeding years, Dolto made a number of original contributions to the understanding of psychosis, neonatology, female sexuality, education, and religion. Although controversial, she was able to write both for the general public and for professional colleagues. In 1979, Dolto opened La Maison Verte as a specialist centre for the practical application of her theories. Similar centres have since been created around the world. Dolto continued to write and teach until her death in 1988.
Françoise Hivernel graduated as a Psychoanalytic-Psychotherapist from the Contemporary Freudian Training of the West Midlands Institute and is a member of the Forum for Independent Psychotherapists. She is also a member of Cambridge Analysis and works in private practice in Cambridge with adults.
More titles by Francoise Hivernel
Fiona Sinclair has been in clinical practice for many years, teaching and supervising trainee psychotherapists. She previously held an honorary psychotherapist post in the Young Children's Service and in the Psychotherapy Department, Fulbourn and Addenbrookes Hospitals, Cambridge. She is a founder member of the Site for Contemporary Psychoanalysis.