The Strategic Dialogue: Rendering the Diagnostic Interview a Real Therapeutic Intervention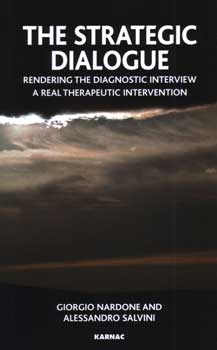 Book Details
Publisher : Routledge
Published : 2007
Cover : Paperback
Pages : 134
Category :
Brief Psychotherapy
Catalogue No : 25873
ISBN 13 : 9781855755567
ISBN 10 : 1855755564
About the Author(s)
Giorgio Nardone is director of Centro di Terapia Strategica (Strategic Therapy Center) and of the Post Graduate School of Brief Strategic Therapy Center in Arezzo, Italy. He is also professor of Brief Psychotherapy at the Post Graduate School of Clinical Psychology, University of Siena, Italy. He has published numerous articles and several books translated into many foreign languages. He is renowed as one of the most creative therapists and authors in the field of Brief Strategic Therapy and Strategic Problem Solving. his systematic and effective models for treating phobic, obsessive disorders and eating disorders are followed by many psychotherapists all around the world.
More titles by Giorgio Nardone
Alessandro Salvini is a clinical psychologist. He teaches psycho-pathology and clinical psychology at the University of Padova. He has focused his research on the exploration of dissociative personality processes, clinical psychology, new models of psychotherapy in a transcultural perspective, gender disturbances, diversity and deviances, states of consciousness, and inner voices experiences. He is currently involved in the Brief Strategic Therapy Training School (Brief Strategic Therapy Training MRI Model) and is an active member of the Centre for Strategic Therapy, Arezzo.