Exploring Eating Disorders in Adolescents: The Generosity of Acceptance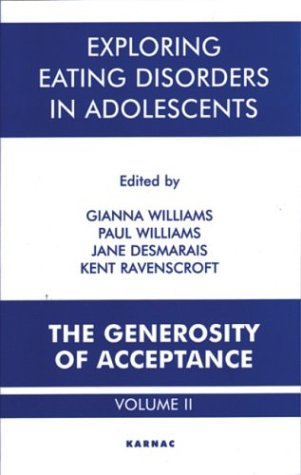 About the Editor(s)
Gianna Williams trained as a child and adult therapist and was part of the teaching staff of the Tavistock Clinic in the 1970s and later Consultant Psychotherapist at the Adolescent Department of the Tavistock, where in 1987 she founded the Eating Disorders Workshop. She has taught at the Tavistock Clinic and University of East London, and the Universities of Pisa and Bologna and has founded numerous courses based on the Tavistock model in Italy, France and Latin America.
More titles by Gianna Williams
Paul Williams is a training and supervising analyst with The British Psychoanalytical Society and a member of the Royal Anthropological Institute. He was a consultant psychotherapist in the British National Health Service, retiring in 2010. From 2001-2007 he was Joint Editor-in-Chief, with Glen O. Gabbard, of the International Journal of Psychoanalysis. He has published widely on the subject of severe disturbance. He lives and practises in Hampshire, UK.
Jane Desmarais is Deputy Head of English in the Department of English & Comparative Literature at Goldsmiths, University of London. She is co-author with Lawrence Goldie of Psychotherapy and the Treatment of Cancer Patients: Bearing Cancer in Mind (Routledge, 2005), and author and editor of a number of books, essays and articles on psychoanalysis, literature and visual arts. She is co-editor of two volumes on eating disorders in children and adolescents, and has written on anorexia and passive resistance in Hermann Melville's 1853 tale, Bartleby. She is currently working on a series of projects about Decadence, including a book on skin based on the work of Didier Anzieu's Le Moi-Peau.