Explorations in Autism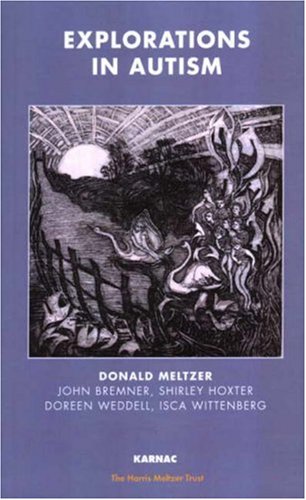 Book Details
Publisher : Harris Meltzer Trust
Published : 2008
Cover : Paperback
Pages : 254
Category :
Autism and Aspergers
Category 2 :
Psychoanalysis
Catalogue No : 27274
ISBN 13 : 9781855756649
ISBN 10 : 1855756641
Also by Donald Meltzer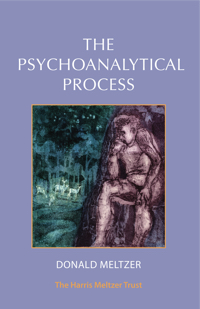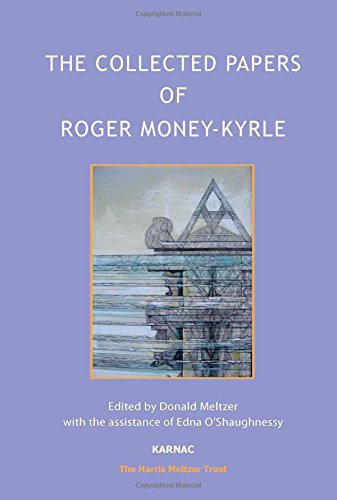 Also by Shirley Hoxter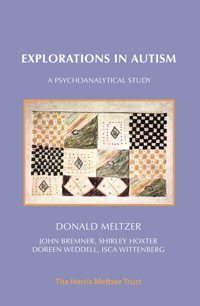 Paperback
£23.39
In stock, despatched within 24 hours
Free delivery worldwide
This title has been delisted and is no longer available to purchase
Explorations in Autism is a turning point in both the understanding of and the clinical approach to autism. The clinical material gradually unveils the geography of the internal mother (which proved crucial for the development of Meltzer's claustrum theory) and allowed him to draft, for the first time in psychoanalysis, a theory of the dimensionality of mental life. The book is a moving journey through the dynamics of the transference- countertransference, revealing what Meltzer calls the essentials of humanity. It should be part of the training of every analyst and I believe it would be a revelation to many philosophers of the mind.
Reviews and Endorsements
'While we accompany the author on his journey (which he says is more like a traveller's tale than a scientific report) we can clearly perceive how, alongside the rich and evocative clinical descriptions, a complete picture emerges of certain modalities of mental functioning. These modalities observed in autistic children have a more general scope than in psychopathology and even lead us to rethink certain basic concepts in psychoanalysis. The research recorded in this book allowed Meltzer to come into contact with children who were unable to form an object containing a space to be used in their mental development. Later, using conclusions drawn from this work, Meltzer went on to formulate the "aesthetic conflict" in a book which pairs with this one: The Apprehension of Beauty (1988).'
- VIRGINIA UNGAR, Training Analyst, Buenos Aires Psychoanalytical Association and Chair of the Child and Adolescent Psychoanalysis Committee of the IPA

'The rigorous exploration reported in this book has shed a totally new light on the subjective experience of autistic children and hence on the primitive developmental phases of every human mind. A new metapsychological model of the psyche stems from the description here of fundamental concepts like primal depression, dismantling, adhesive identity, dimensionality as a parameter of mental functioning. These concepts refer not so much to a theory of conflict as in classical metapsychology, but rather to a theory of gradient which will lead to Meltzer's theory of the aesthetic object. This book displays brilliantly the creativity of psychoanalytic work applied to a new psychopathological field, both in helping the patients recover their mental health and also in understanding new layers of the human mind.'
- DIDIER HOUZEL, French Psychoanalytical Association and Professor of Child and Adolescent Psychiatry, University of Caen

'Donald Meltzer's brilliant "lessons" supervising my analysis of a post-autistic boy have increased my psychoanalytical instruments for investigating the transference and countertransference: how to observe emotional and behavioural facts during the session (not only verbalizations), and how to seek out my own dream images in order to carry on with the analysis.'
- MARISA PELELLA MÉLEGA, Child and Adult Psychoanalyst, Training Analyst, Brazilian Psychoanalytical Society, São Paulo

About the Editor(s)
Donald Meltzer (1923-2004) is widely known as a psychoanalyst and teacher throughout Europe and South America. He is the author of many works on psychoanalytic theory and practice, including The Psychoanalytical Process, Sexual States of Mind, Explorations in Autism, The Kleinian Development, Dream Life, Studies in Extended Metapsychology, and The Claustrum, all published by the Harris Meltzer Trust.
You may also like