The Creative Feminine and her Discontents: Psychotherapy, Art and Destruction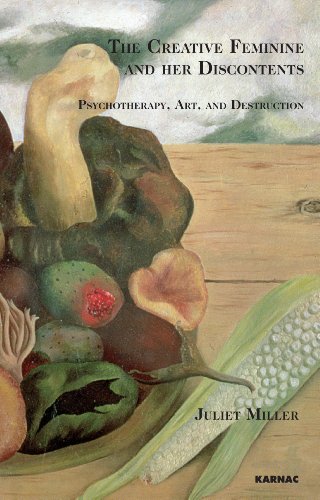 Also by Juliet Miller
This book is an attempt to look at creativity from a female perspective. By looking at artistic endeavour, mothering and psychotherapeutic relationships, Juliet Miller considers how a patriarchal world distorts the channels through which women discover their own creative voices. She argues that the dynamics of female creativity are more multi- layered and conflicted for women for a variety of historical, cultural and archetypal reasons and suggests that an attack on the creative feminine has been exacerbated by the history and teaching of psychoanalysis and psychotherapy. Miller looks to the artistic community to discover new ways for the creative feminine to grow and assesses how ideas of destruction and anarchy are crucial for the expression of a feminine self. The work of two contemporary sculptors, Cornelia Parker and Louise Bourgeois, is explored to show how there can be authentic relationships to creativity through the ideas of deconstruction and reconstruction in their work. This book will interest psychotherapists and analysts and both women and men interested in their own relationship to their creativity.
Reviews and Endorsements
'Juliet Miller's book makes a vital contribution to the important but neglected area of the female creative process. She explores with strength and sensitivity those issues and taboos that often challenge or frustrate women's creativity within relationships, motherhood, infertility, the workplace, therapeutic and psychoanalytic communities and the wider artistic world. By examining the ways in which female creative drives and their repressed emotions of aggression and destructiveness transform matter - that most feminine material - into images and works of art that are subversive and spiritual, Miller provides new insight into the art of leading female artists Louise Bourgeois and Cornelia Parker. A must for readers interested in the creative feminine.'
- Diane Finiello Zervas, Jungian Analyst, Art Historian

'This passionate yet lucid account includes critical insights into the ways feminine creativity is under attack in the arts, motherhood and the shadow side of the psychoanalytic enterprise. Miller holds up a looking glass to the latter which reflects the pathological face of psychoanalysis where it is contaminated by unconscious power drives. The book is recommended reading for all those seeking to realise their creative potential.'
- Ann Casement, Licensed Psychoanalyst, Fellow of the Royal Anthropological Institute
About the Author(s)
Juliet Miller is a Jungian Analyst with a private practice in London. Prior to training as an analyst she worked as a documentary film maker on environmental, social and women's issues. She is especially interested in creative expression and the interface between the arts and psychotherapy. She is co-editor with Jane Haynes of Inconceivable Conceptions. Psychological Aspects of Infertility and Reproductive Technology.
You may also like