On Having an Own Child: Reproductive Technologies and the Cultural Construction of Childhood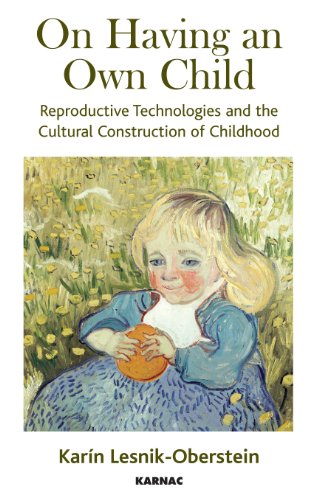 How are ideas of genetics, 'blood', the family, and relatedness created and consumed?
This is the first book ever to consider in depth why people want children, and specifically why people want children produced by reproductive technologies (such as IVF, ICSI etc). As the book demonstrates, even books ostensibly devoted to the topic of why people want children and the reasons for using reproductive technologies tend to start with the assumption that this is either simply a biological drive to reproduce, or a socially instilled desire. This book uses psychoanalysis not to provide an answer in its own right, but as an analytic tool to probe more deeply the problems of these assumptions. The idea that reproductive technologies simply supply an 'own' child is questioned in this volume in terms of asking how and why reproductive technologies are seen to create this 'ownness'.
Given that it is the idea of an 'own' child that underpins and justifies the whole use of reproductive technologies, this book is a crucial and wholly original intervention in this complex and highly topical area.
Reviews and Endorsements
'On Having an Own Child is a very welcome contribution to the field of feminist studies of reproduction. Bringing together the previously distinct fields of childhood studies and studies in reproduction, its detailed and careful engagements with existing literatures constitute a substantial in academic debate in this area. It also provides an excellent model of using psychoanalysis to analyse both academic and social fields: although this is a profoundly theoretical book, it avoids the use of technical language, providing very close readings of a broad range of texts to elaborate its argument. Speaking to a topic of such profound interest to many women and to many kinds of feminism, it is sure to stimulate much interest.'
- Celia Roberts, Feminist Review no. 93 (2009)

'In her erudite analysis of everything that is commonsensical - and not - about 'having an own child', Karin Lesnik- Oberstein has completed a long-overdue task with the scope and rigour it deserves. On Having an Own Child is a contribution to the cultural analysis of reproduction and the feminist debate about reproductive technology that consistently foregrounds the fundamental questions of language, kinship, culture and identity at their core. In a confrontational analysis that ranges from psychoanalysis to biopolitics, Lesnik-Oberstein makes a major contribution to contemporary cultural theory in a path-breaking work that deserves to be read by the widest possible audience.'
- Sarah Franklin, Professor of Social Studies of Biomedicine, London School of Economics.
About the Author(s)
All of Karin Lesnik-Oberstein's academic research based on inter- and multi- disciplinary research has been on childhood as a cultural and historical construction. Her first monograph (published by the Clarendon Press of OUP in 1994) addressed this issue through the lens of children's literature studies. Subsequent work analyses childhood as an identity in fields ranging from psychology, anthropology, sociology, and history, to law and medicine. Her work on childhood is primarily based on approaches drawn from Freudian psychoanalytic thinking, through the particular use made of psychoanalysis in turn by thinkers such as Professor Jacqueline Rose and Erica Burman in literature and psychology respectively. Her edited volumes have drawn together fields in innovative ways and demonstrated how this kind of analysis of identity can illuminate thinking across a range of disciplines. That her approach is not limited to childhood as such, but extends to any thinking about identity and meaning is demonstrated also by her latest edited book on productions of gender and sexuality, The Last Taboo: Women and Body Hair (Manchester University Press, 2007).
You may also like