Los Pioneros de Psicoanálisis de Ninos
Book Details
Publisher : Ediciones Karnac
Published : October 2015
Cover : Paperback
Pages : 276
Category :
Spanish
Category 2 :
Child and Adolescent Studies
Catalogue No : 36145
ISBN 13 : 9781910444023
ISBN 10 : 1910444022
Also by Beatriz Markman Reubins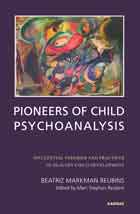 Paperback
£23.39
In stock, despatched within 24 hours
Free delivery worldwide
This title has been delisted and is no longer available to purchase
En Pioneros del psicoanálisis infantil, Beatriz Markman Reubins nos acerca la vida y las teorías de los primeros innovadores de la teoría psicoanalítica aplicada al desarrollo del niño -Sigmund Freud, Anna Freud, Melanie Klein, D.W. Winnicott, Margaret Mahler y John Bowlby. El pensamiento creativo mostrado por Markman Reubins se basa en su tejido único de historia personal y aplicación teórica, en el que la elaboración detallada de los pensamientos de los pensadores influyentes fluye sin interrupciones desde principios del siglo XX hasta la actualidad.
El enfoque único que hace la autora entre la teoría anterior y la historia personal de los pensadores analíticos amplía y da textura al desarrollo de su explicación del desarrollo psicológico y sus implicaciones analíticas para el desarrollo del niño, a la vez que describe conceptos difíciles a través de un enfoque equilibrado y reflexivo, que arroja luz y comprensión, tanto para el estudiante como para el facultativo experimentado.
Al comparar y contrastar estos enfoques teóricos, la autora sugiere sus interrelaciones y la forma en que, en lugar de oponerse entre sí, se engrandecen el uno al otro y ayudan al lector a comprender la gran profundidad de penetración analítica que fluía a partir de la enorme creatividad de los analistas del siglo XX . Si bien se trata de una "lectura obligada" para los estudiantes de psicoanálisis infantil, también es una obra muy beneficioso para los padres que desean comprender los fundamentos de las mejores prácticas en la crianza de los hijos.
About the Author(s)
Beatriz Markman Reubins, MD, received her medical degree from Buenos Aires Medical School of the University of Buenos Aires, and is a licensed clinical psychologist. She trained in adult, child and adolescent psychiatry at North Shore University Hospital on Long Island, New York, and is a member of the Argentina Psychoanalytic Association, the International Psychoanalytic Society, and past President of the Long Island Psychoanalytic Society in New York. She was Assistant Professor in Psychopathology at the University of Buenos Aires, and is currently an Associate Attending at Long Island Jewish Hospital (North Shore University Hospital) where she teaches psychoanalysis and supervises psychiatric residents at the Zucker-Hillside Hospital. Dr Markman Reubins is also a member of the China American Psychoanalytic Alliance (CAPA), and a supervising psychotherapist in China.
You may also like