Nurturing Natures: Attachment and Children's Emotional, Sociocultural and Brain Development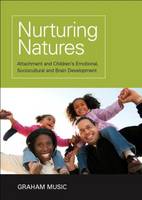 By the same author
This book provides an indispensable account of current understandings of children's emotional development. Integrating the latest research findings from areas such as attachment theory, neuroscience and developmental psychology, it weaves these into a readable and easy to digest text. It will leave the reader confident that they have grasped the important issues about psychological and social development. It provides a tour of the most significant influences on the developing child, always bearing in mind the family and social context. It looks at key developmental stages, from life in the womb to the pre-school years and right up until adolescence, whilst also examining how we develop key capacities such as language, play or memory. Issues of nature and nurture are addressed and the effects of different kinds of early experiences are unpicked, looking at both individual children and larger-scale longitudinal studies. Psychological ideas and research are carefully integrated with those from neurobiology and understandings from other cultures to create a coherent and balanced view of the developing child in its context. Nurturing Natures integrates a wide array of complex academic research from different disciplines to create a book which is not only highly readable but also scientifically trustworthy. Full of fascinating findings, it provides answers to many of the questions people really want to ask about the human journey from conception into adulthood.
Reviews and Endorsements
'This book is a tour de force, integrating the most significant advances from developmental science and neuroscience with key clinical concerns relevant to all those working with children and young people. It is beautifully written, highly accessible and inspiring. I cannot think of a better text to use with those who are in the process of acquiring clinical skills or advanced practitioners wanting to their understanding of modern science. This superb book should be on the bookshelf of all child mental health professionals.'
- Peter Fonagy, Freud Memorial Professor of Psychoanalysis and Head of the Research Department of Clinical, Educational & Health Psychology, University College London, UK

'This book demonstrates an extraordinarily wide range of knowledge about different aspects of child and adolescent development. The author takes a refreshingly non-partisan approach to the nature vs nurture debate, describing the latest research on genetics and neuroscience alongside compelling evidence for the impact of culture, class and parenting on the emotional development of the child.'
- Nick Midgley, Head of Programme for Children and Young People, Anna Freud Centre, London, UK

'An up-to-date and beautifully integrated account of the new findings in child development and neuroscience. Graham Music wears his scholarship lightly, and the book is a delight to read.'
- Anne Alvarez, Consultant Child and Adolescent Psychotherapist, Tavistock Clinic, London, UK

'Music has provided us with a masterly exploration of the latest research, its complimentary translation into relevant concepts and its application into ways of thinking and intervening. A wide range of practitioners, policy makers and students will benefit from this one text alone and in turn, so will many children and young people.'
- John Simmonds, Director of Policy, Research and Development, British Association for Adoption and Fostering

'This is a MUST read for anyone working with children. Music has a talent for translating what is often dense, dry and inaccessible research into a book which is easy to read and fascinating. The tone is human, sensitive and thoughtful. A real treasure in the field of Child Development.'
- Asha Philips, Child Psychotherapist

Contents:
1. Introduction: The Blind Men and the Elephant. Part 1. Beginnings of Emotional and Social Development. 2. Life Begins: From Conception to Birth. 3. Born to Relate. 4. Infant Coping Mechanisms, Mismatches and Repairs in Relating. 5. Empathy, Self and Other Minds. Part 2. Over-Arching Bodies of Ideas. 6. Attachment. 7. The Importance of Culture. 8. Biology and the Brain. Part 3. Developmental Capacities and Stages. 9. Language, Words and Symbols. 10. Memories: Learning Who We Are and What to Expect. 11. Play: Fun, Symbolising, Practising and Mucking About. 12. Boys, Girls and Gender. Part 4. Not Just Mothers. 13. Non-Maternal Care and Childcare. 14. Siblings, Peers, Group Life and Middle Childhood. 15. The Place of Fathers. 16. Moving Towards Adulthood. Part 5. Consequences of Early Experiences. 17. Trauma, Neglect and Their Effects. 18. Resilience and Good Feelings. 19. Genes, Nature and Nurture. 20. Conclusions: Early Experience and its Longer Term Consequences.
About the Author(s)
Graham Music is a Consultant Child Psychotherapist and Associate Clinical Director at the Tavistock Clinic in London. His main clinical interests are in developing services in community settings such as schools, and in working with children who are Looked after or adopted, and the adults in their lives. He teaches on many courses and trainings in Britain, and abroad, is on the editorial board of the child psychotherapy journal and has published particularly on the interface of developmental research and therapeutic practice. He is also an adult psychotherapist working in private practice.
You may also like