Explorations in Transactional Analysis: The Meech Lake Papers

Book Details
Publisher : Intl Transactional Analysis Association
Published : January 2008
Cover : Paperback
Pages : 326
Category :
Transactional Analysis
Catalogue No : 28642
ISBN 13 : 9780894890079
ISBN 10 : 0894890077
By the same author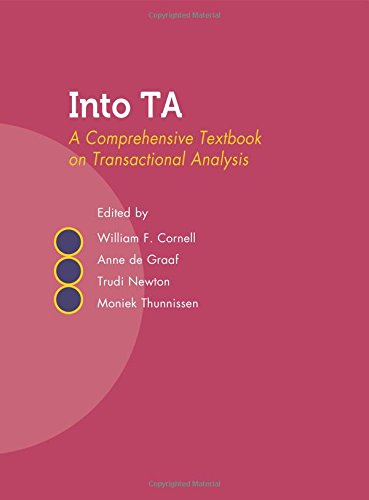 Explorations in Transactional Analysis brings together many of Bill Cornell's articles on transactional analysis. Written over 20 years, these papers reflect his ongoing exploration of the interfaces among transactional analysis, the body-centered therapies, and contemporary psychoanalysis. Much of Bill's writing exemplifies the potential and enrichment brought to our work in human relations through the use of one theoretical model to challenge and enhance another. an extensive section devoted to working with the body in psychotherapy brings together a selection of papers and book chapters available for the first time in a single volume. Often written to raise questions more than provide answers, many of these papers are written in an unusually personal voice.
Reviews and Endorsements
'This is a deeply moving book. It is also remarkably informative and wise. Cornell has single-handedly brought Berne back into psychology, not only providing a remarkable and historic service to transactional analysis but to all of us interested in who we are and why we act as we do. That Cornell's book was written, over decades, in the wilds of Canada, is remarkably fitting as he has brought Berne back from the wilderness.'
- Christopher Bollas, Ph.D., psychoanalyst and author

'Bill Cornell's collection of writings raises insightful questions and criticisms of transactional analysis theory and practice. He focuses on the centrality of a relational and body-centered psychotherapy while integrating contemporary psychoanalytic concepts. This book is a must-read for all serious psychotherapists.'
- Richard G. Erskine, Ph.D., Institute for Integrative Psychotherapy, New York
About the Author(s)
William F. Cornell, MA, teaching and supervising transactional analyst, maintains an independent prvate practice of therapy, consultation, and training in Pittsburgh, USA. He is a co-editor of the Transactional Analysis Journal and has published extensively in a broad range of journals and psychotherapy books. He is the author of Explorations in Transactional Analysis: The Meech Lake Papers, editor of James McLaughlin's The Healer's Bent: Solitude and Dialogue in the Clinical Encounter, and co-editor with Helena Hargaden of From Transactions to Relations: The Emergence of a Relational Tradition in Transactional Analysis.
You may also like