Cognitive Therapy: 100 Key Points and Techniques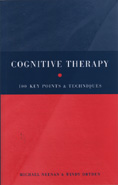 By the same author

Paperback
£16.99
Usually despatched within 4-5 working days
Free delivery worldwide
This title has been delisted and is no longer available to purchase
Cognitive Therapy: 100 Key Points is a crisp, concise elaboration of the 100 main features of the most popular and best validated approach within the field of cognitive behaviour therapy. The 100 key points cover cognitive therapy theory and practice, and examine misconceptions about this approach. Divided into helpful sections, topics covered include assessment, homework, ways of detecting NATS, uncovering core beliefs and relapse prevention.
Reviews and Endorsements
This neat, usable book is an essential guide for psychotherapists and counsellors, both in training and in practice, who need to ensure they are entirely familiar with the key features of cognitive behavioural therapy.
About the Author(s)
Michael Neenan is Associate Director of the Centre for Stress Management, London, an accredited cognitive behavioural therapist and author and editor of numerous books, including (with Windy Dryden) Life Coaching: A Cognitive-Behavioural Approach.
Windy Dryden was the first Professor of Counselling in Britain, and is now a Professor of Psychotherapeutic Studies at Goldsmiths College, University of London, where he runs the MSc course in Rational-Emotive and Cognitive Behaviour Therapy. He has authored or edited 195 books, and edited twenty book series. He was the founding editor of the British Journal of Cognitive Psychotherapy in 1982 and is now editor of the Journal of Rational-Emotive and Cognitive-Behavior Therapy.
You may also like