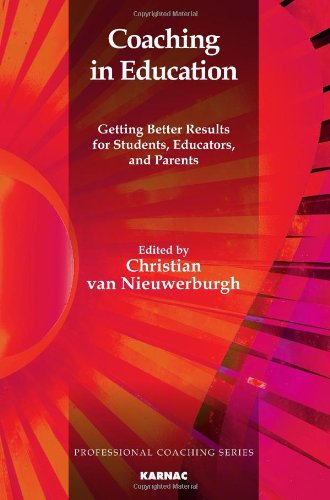 Book Details
Publisher : Karnac Books
Published : May 2012
Cover : Paperback
Pages : 256
Category :
Coaching
Catalogue No : 32912
ISBN 13 : 9781780490793
ISBN 10 : 1780490798
Coaching in Education: Getting Better Results for Students, Educators and Parents will support educational organisations in learning more about the current interest in coaching approaches within schools, colleges and universities. With chapters on coaching in primary schools and secondary schools, with students, staff and parents, this book provides a sound basis for introducing coaching into any educational setting. This book brings together the latest national and international academic research with real case studies and a focus on practice that makes a difference for learners.
Starting with a review of the existing literature and research into the area of coaching in education, the book goes on to consider the role of coaching educational leaders, coaching within the primary school setting and then secondary school settings.
The notion of "mental toughness" and its relationship to coaching is also explored. The US and Australian perspectives on coaching in education are discussed in two chapters written by leading experts - instructional coaching in the US and the integration of positive and coaching psychology in Australia. This is followed by a chapter that focuses on coaching for parents, which is a growing area of interest. Finally, the book concludes with a practical consideration of creating "Coaching Cultures for Learning", proposing a number of models and next steps.
Interesting case studies relating to coaching in primary schools, secondary schools and universities are also shared. Written by academics and expert educational practitioners, Coaching in Education is set to become the standard text for anyone interested in studying the subject. Even more importantly, it can be used to support educators who would like to develop coaching cultures for learning for their own students.
Reviews and Endorsements
'Recognition of the value of coaching has grown in recent years and it has been applied widely in education, as this important new book demonstrates. Few authors could be better equipped than Christian van Nieuwerburgh to edit a text on coaching and this volume provides a comprehensive and incisive overview of the topic.'
- Tony Bush, Professor of Leadership, Institute of Education, University of Warwick, UK

'Coaching in Education is a practical and informative work underpinned by thorough and up-to-date research. The range of topics covered is extensive. Perfect for education coaches and busy education practitioners who wish to establish coaching in their organisations.'
- Wendy Hick, Headteacher, Kobi Nazrul Primary School, Tower Hamlets, London, UK

'Coaching in Education provides an excellent overview of the uses of coaching across the spectrum of stakeholders in education, including leaders, teachers, and students. By including scholars and thinkers from the UK, Australia, and the USA, it opens an important conversation across educational contexts. It is well grounded in current theory and research on coaching and yet remains very accessible and readable. This book makes a valuable contribution to both researchers and practitioners of coaching in education.'
- Megan Tschannen-Moran, Professor of Educational Leadership, School of Education, College of William & Mary, Virginia, USA

'There may be no more important setting for good evidence-based coaching than education. Educational settings are the foundations on which society is built. This excellent book distils best current knowledge and will be a key text for coaches, teachers, students, and parents who seek to enhance the well-being, resilience, and performance of students of all ages, as well as positively impacting on educational institutions themselves. Highly recommended.'
- Anthony Grant, Director, Coaching Psychology Unit, University of Sydney, Australia

'A worthy new book demonstrating the great practical use of coaching in educational settings. I particularly enjoyed reading the many exciting and instructive case studies that Christian van Nieuwerburgh has brought together and that underline the general effectiveness of this intervention.'
- Erik de Haan, Director of Ashridge Centre for Coaching, Professor of Organisational Development and Coaching, VU University, Amsterdam, Netherlands

'This very readable and engaging collection is a welcome addition to the emerging literature on coaching for teachers and school leaders. There is increasing evidence that coaching is a powerful tool for developing school leadership at all levels, building a school's capacity to improve outcomes for children. Christian's edit includes fresh insights on how to create a coaching culture for learning, both within and beyond the school gates.'
- Andrea Berkeley, Education Director, Teaching Leaders, UK
About the Editor(s)
Christian van Nieuwerburgh is a highly sought-after executive coach, researcher, educational consultant, and keynote speaker with significant leadership experience in the public sector. He currently divides his professional time between three engaging and rewarding roles: Programme Leader for the MSc in Coaching and Coaching Psychology at the University of East London, where he heads one of the world's leading university-based postgraduate programmes in coaching psychology. His particular area of expertise is in the impact of coaching within the education sector; Chief Executive of the International Centre for Coaching in Education. Through this organisation, Christian delivers consultancy, training, and executive coaching to clients in the UK and internationally; Executive Coach for West Midlands Councils, for whom he acts as an executive coach and facilitator of peer supervision working across a number of public sector organisations in the West Midlands. Christian has enjoyed a richly diverse career. He held senior marketing and business development roles in a number of organisations within the hospitality and fast moving consumer goods sectors in the Middle East, a marketing role for the Royal Shakespeare Company, and senior management roles in two highly rated local authorities in the UK.
You may also like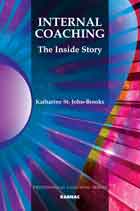 Katharine St John-Brooks
Price £22.19
save £2.80