Managing anger: Simple steps to handling your temper
Send details of this title to a friend or colleague via email :
The recipient will recieve an email from your email address with the details of this title.
Once you submit your details you will be returned to the main product page.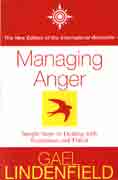 Our Price : £8.99
Availability : This item is reprinting. You may pre-order a copy and we will send it out when it becomes available.
Author(s) : Lindenfield, Gael
Co Author : PB
Co Author 2 : 0
Co Author 3 : Gael
Publisher : HarperCollins
Published : 2000
ISBN : 0007100345
EAN : 9780007100347