The Making of a Counsellor
Synopsis:
In The Making of a Counsellor case studies illustrate work done with 'impossible' clients; other essays about orphans and debtors, accountancy trainees and expatriate employees explore new ways of thinking about these groups of people. More traditional, perhaps, are essays about work with neurological patients, adolescent youth club members, traumatised families, and the chronically mentally ill. Each essay breaks fresh ground in understanding the complexity of the problems and the richness of the counselling relationship. In vivid narrative, The Making of a Counsellor conveys the experience of thinking and working as a counsellor. The original and thoughtful essays make this an invaluable source of ideas and techniques.
Notes about the author(s):
Laurence Spurling is a practising Psychoanalytic Psychotherapist in London and a Senior Member of the British Psychotherapy Foundation. He is Senior Lecturer in Psychosocial Studies at Birkbeck College, University of London, where he co-ordinates and teaches on the counselling and psychotherapy training programmes, and is a Consultant Adult Psychotherapist for the East London NHS Mental Health Trust. He has published widely on clinical issues.
Customers that purchased this title also bought :

Sigmund Freud
Price £14.99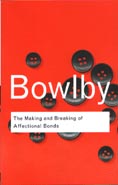 Sheldon Bach
Price £9.44
save £0.55