Contributions of Self Psychology to Group Psychotherapy: Selected Papers
Synopsis:
Stone's central interests include the development of the self, empathy, narcissism, shame, envy, rage and the group-self. He is concerned with several aspects of clinical technique [and] is especially sensitive to our co-creation of so-called "difficult patients". His understanding of dreams as both personal and group products which manifest visual narratives will be of particular interest to students of the social and collective unconscious. Stone's work with narcissistic and borderline patients developed in parallel with his work with the chronically mentally ill, who are often institutionalised. He demonstrates that group therapy for such patients is not only a matter of containment and holding in the service of administrative control, but also involves interpretative work based on an understanding of the primary need for a good enough self-object. Group analysts will be able to connect these ideas with their own theories of ego training in action, the complementarity and reciprocity of transference and countertransference processes, the maintenance of an optimal balance of involvement and detachment in conducting and convening groups, and finding crucial areas of engagement between the group-as-a-whole and the members of it. This work locates aggression within the system of aggressive feelings, frustration and failures in empathy and care. Clearly, Stone has contributed to the development of an authentic relational perspective in psychoanalytical group therapy.' - From the Introduction by Earl Hopper
Reviews and Endorsements:
'Here is a marvelous collection of papers by one who pioneered the introduction of self psychology into group psychotherapy. It includes the author's classic initial contributions to this venture, as well as recent papers that expand on its application. The last section contains important papers on treatment of the chronically mentally ill with which the author has spent years working and refining technique. This anthology belongs on the shelf of every seasoned clinician.'
- Howard D. Kibel, MD, Clinical Professor of Psychiatry, New York Medical College
Notes about the author(s):
Walter N. Stone MD, author of three books and more than sixty articles on group psychotherapy, is Professor Emeritus, University of Cincinnati, past president of the American Group Psychotherapy Association (AGPA), and past treasurer of the International Association of Group Psychotherapy (IAGP). His involvement with AGPA and IAGP has enabled him to have a breadth and depth of exposure to the treatment modality. His work has been recognized nationally and internationally as providing an additional lens in which to view working in groups.
Bestselling titles in the The New International Library of Group Analysis:
Customers that purchased this title also bought :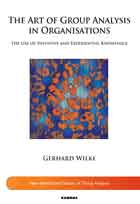 Gerhard Wilke
Price £21.34
save £2.65