Escape from Selfhood: Breaking Boundaries and Craving for Oneness
Synopsis:
Escape from Selfhood is a detailed study of a very traumatised son of a Hungarian couple who managed to evade the Nazi death machinery by finding refuge in a house protected by the Swedish Embassy in Budapest. Ilany writes like a master novelist as she describes her patient's attempts to invade her, fuse with her and destroy her. Concomitantly Ilany does not flinch from relating her own pain and suffering as she engages with a person who is both a victim and victimizer. The resultant account is chilling and electrifying. This is a very elegant and timely study highly recommended for its readability and clarity of exposition.
Notes about the author(s):
Ilany Kogan is a training analyst at the Israel Psychoanalytic Society. She functioned as Clinical Supervisor at the Department of Children and Adolescents, Eppendorf University Hospital, Hamburg, Germany, and of candidates and members of MAP, Munich, Germany and Aachen, Germany, Supervisor of the Psychotherapy Centre for the Child and Adolescent, Bucharest, Romania, Teacher and supervisor at the IPA Psychoanalytic Group, Istanbul, Turkey. She has also worked as a supervisor in various places in Germany, especially in Munich and Aachen, where she continues to this day, and at the Generatia Centre in Bucharest, Romania, and the IPA Study Group, Istanbul, Turkey. For many years, she worked with Holocaust survivors' offspring, and published extensively on this topic. She was awarded the Elise M. Hayman Award for the study of the Holocaust and Genocide, and is the author of The Cry of Mute Children, Escape from Selfhood and The Struggle Against Mourning.
Bestselling titles in the The International Psychoanalytical Association Psychoanalytic Ideas and Applications Series:
Customers that purchased this title also bought :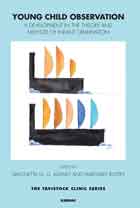 Simonetta M.G. Adamo
Price £26.44
save £3.55